Development Programs for 2019-2025 Strategic Years
ISEES as part of initiatives to improve access to sustainable energy and environmental solutions to low-income households, small businesses and communities in rural and peri-urban areas of Ghana, through research, training, policy advocacy, and technology deployment we have developed a number of initiatives and programs to realize our strategic vision of empowering grassroots communities.
These are also in line with the achievement of the Sustainable Development Goals, reducing climate change and enhancing sustainable management of natural resources in Ghana and Africa. Below are some of the programs outlined in our 5 years strategic plan for community development.
ISEES welcomes partnerships with development partners, the private sector and national governments to collaborate in realizing these initiatives.So far in-depth research, knowledge development and piloting have been on-going for the past 3 years to enhance scale-up of these projects from 2020-2025. 
ISEES seeks to develop its new campus with ultra-modern facilities to enhance professional technical and tertiary training in renewable energy, energy efficiency, climate change and environmental management. ISEES Board seeks partnerships and investors to help realize this objective.
Read more about our training courses here:
www.isees.edu.gh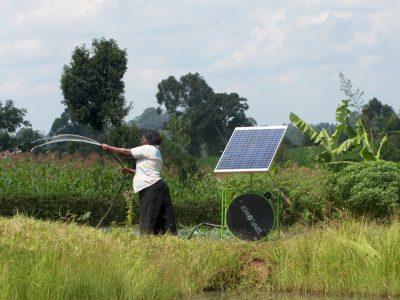 This program seeks to promote access to solar-powered irrigation systems for 500 small-holder farmers to improve off-season irrigation, all year round farming to enhance productivity and incomes of smallholder farmers in Ghana and Africa.
Click to read more
www.iseesghana.org/programs-projects/pumping-for-productivity-program/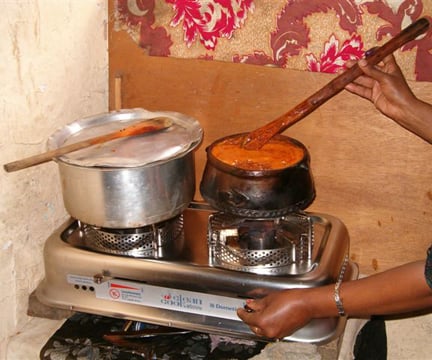 DECARBONIZING HOMES PROGRAM
This program seeks to promote energy access with clean cooking solutions to 500 low-income households and agro-processing women groups in rural and peri-urban areas in Ghana and Africa.
LIGHTING HOMES PROGRAM
This program seeks to enhance access to clean solar lighting solutions (5000 solar lanterns and 500 solar home systems) for off-grid households in rural and peri-urban areas of Ghana and Africa. Click here to read more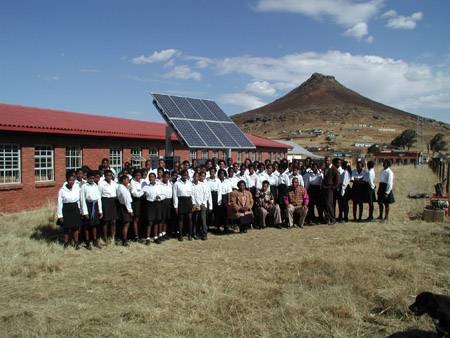 SOLAR FOR SCHOOLS PROGRAM
This program seeks to provide access to sustainable solar lighting solutions to 500 off-grid schools in 5 years to improve education and access to ICT services for local communities in Ghana and Africa. This will include solar for the classrooms, libraries, computer science centers, and solar lanterns for the pupils, students, teachers in their homes to facilitate teaching and learning. We hope to integrate solar powered wifi services to improve ICT in off-grid communities and schools.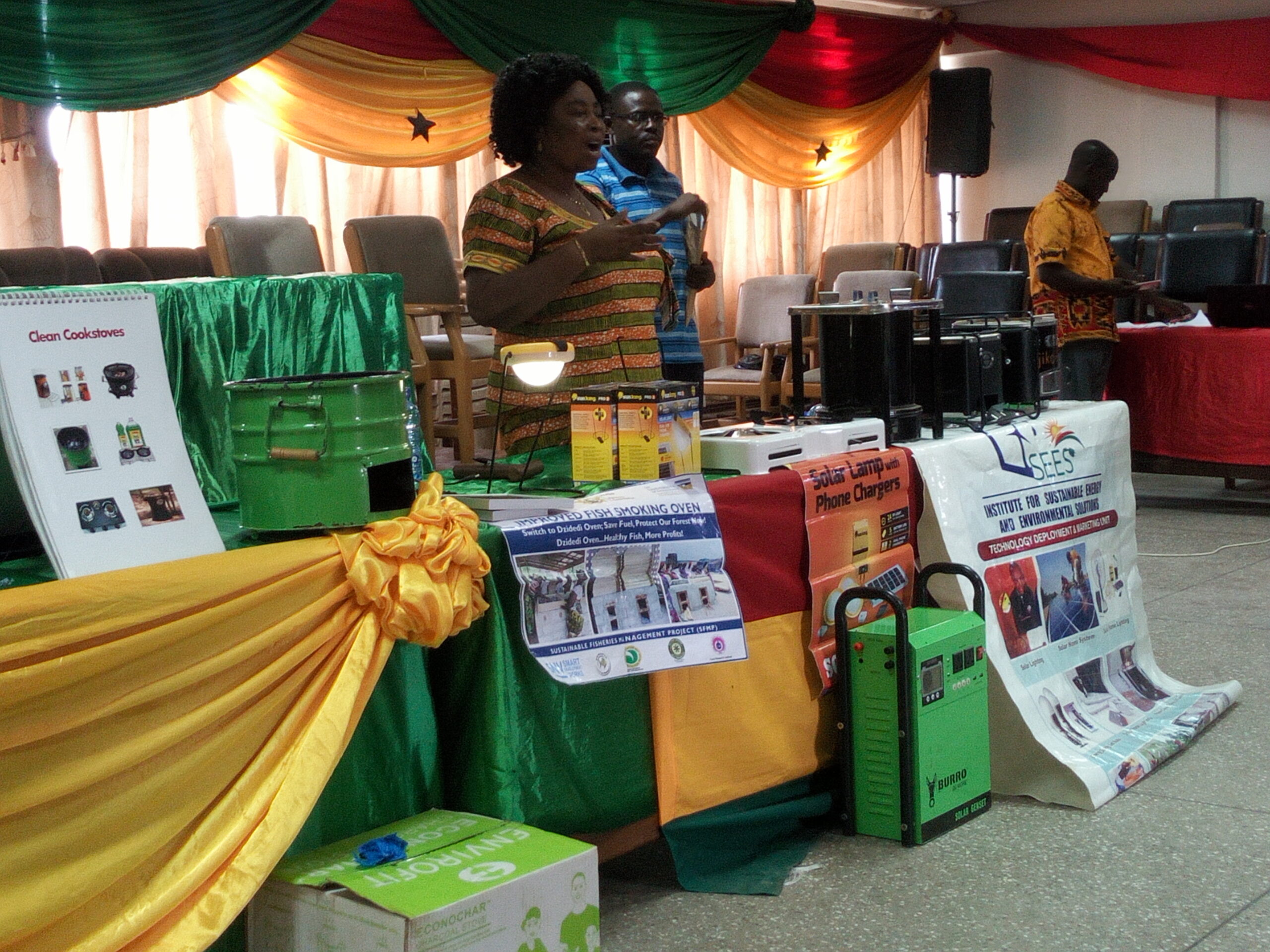 SUSTAINABLE ENERGY FOR AGRO-PROCESSING PROGRAM
This program seeks to provide sustainable energy solutions for productive uses in agriculture and small businesses. This includes solar generators, clean cooking solutions for agro-processing women groups involved in shea butter, fish smoking, cassava processing, rice parboiling as well as exploring the use of agro-waste for clean cooking and electricity generation to power the agro-industries through biomass gasification technologies.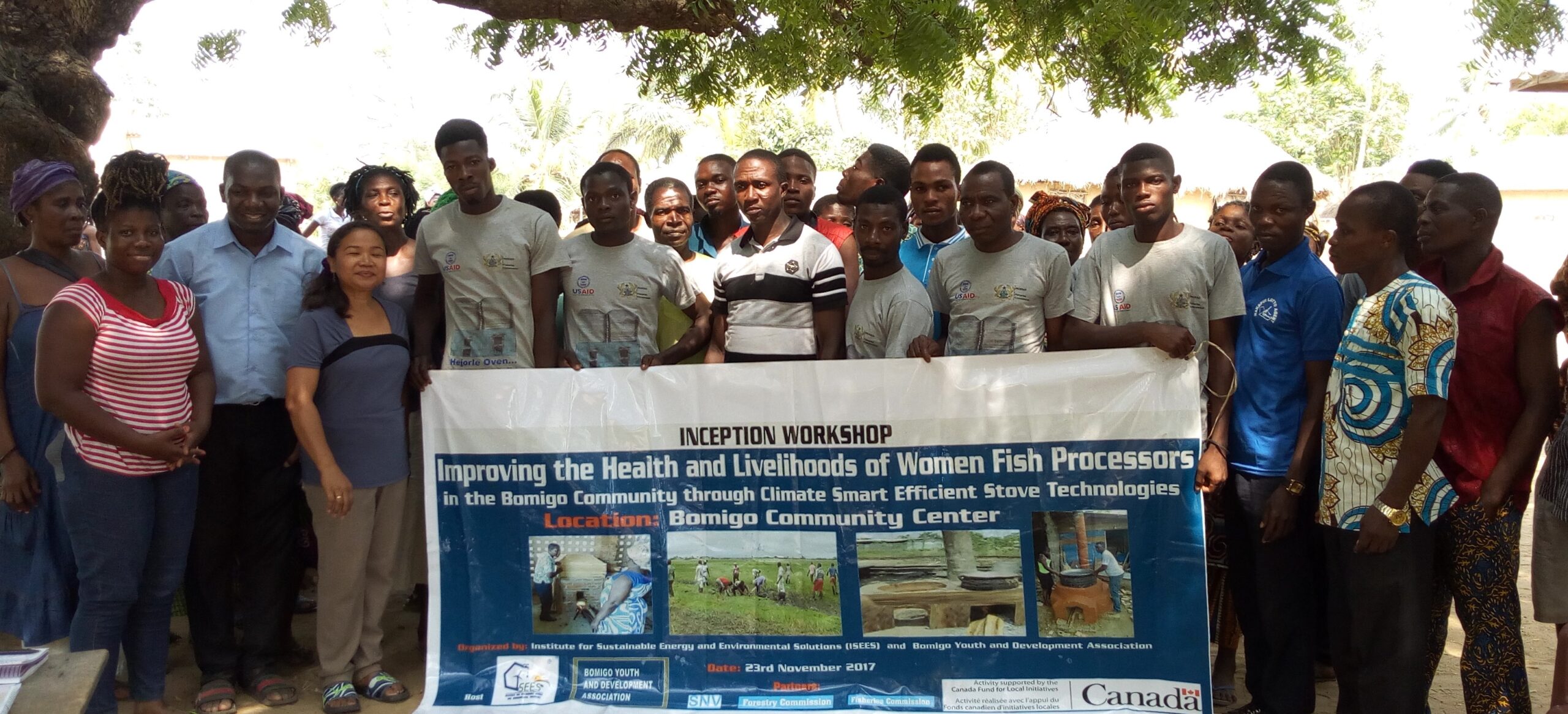 INTEGRATED ENERGY AND ENVIRONMENTAL SOLUTIONS FOR ISLAND COMMUNITIES
As part of UN Climate Change Goals to reduce climate change impacts in small island communities, ISEES seeks to promote access to sustainable energy and environmental solutions for island communities in Ghana and Africa. It includes solar lighting and clean cooking solutions and natural resources and mangroves conservation in island communities. The program has begun in Bomigo Island through the provision of improved stoves for fish smoking, fish frying, solar lanterns as well as alternative woodlots and mangroves conservation.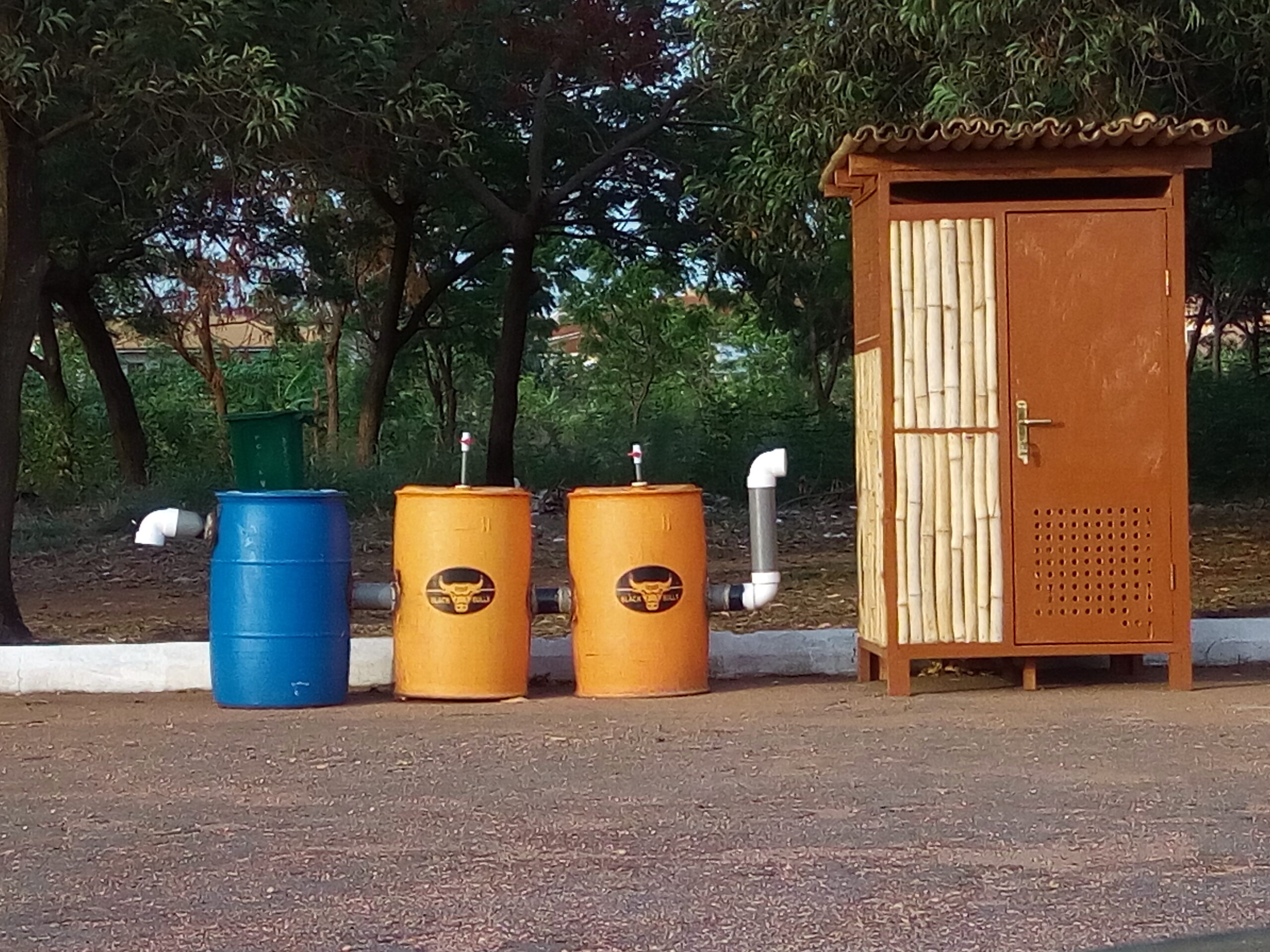 SUSTAINABLE SANITATION FOR URBAN POOR COMMUNITIES PROGRAM
This program seeks to enhance access to sustainable sanitation solutions for 1000 rural and peri-urban poor households and slum communities in Ghana and Africa within 5 years. It includes toilet facilities, small biogas systems for households and water facilities. Click here to read more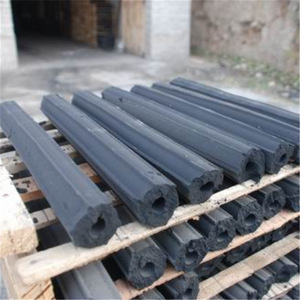 SUSTAINABLE BIOMASS FUELS DEVELOPMENT PROGRAM
This program seeks to promote the development of 100 sustainable fuel enterprises in Ghana for the production of briquettes, pellets, ethanol fuels, and sustainable woodlots for improved cooking and industrial uses. The program will seek to enhance the food-energy-environment nexus by working with local communities, farmers and women to produce briquettes from various agro-waste resources including coconut husk, rice husk, shea waste, saw dust, sugacane baggase, cassava peels among others to enhance sustainable energy access in Ghana and Africa.
SUSTAINABLE ENERGY BUSINESS DEVELOPMENT PROGRAM (SEBUD)
The SEBUD Program seeks to provide business advisory support services to existing green businesses and local trade associations in the green economy sector to improve business operations and enhance access to finance. The program includes capacity building, business plan development, coaching, financial management advisory, access to financial services, improvement in governance structures and development of innovative business models that enhance the sustainability of these businesses. The program dubbed tell your story, grow your business also seeks to support local green businesses to redefine their vision and mission and develop the right marketing and branding tools to enhance the growth of their businesses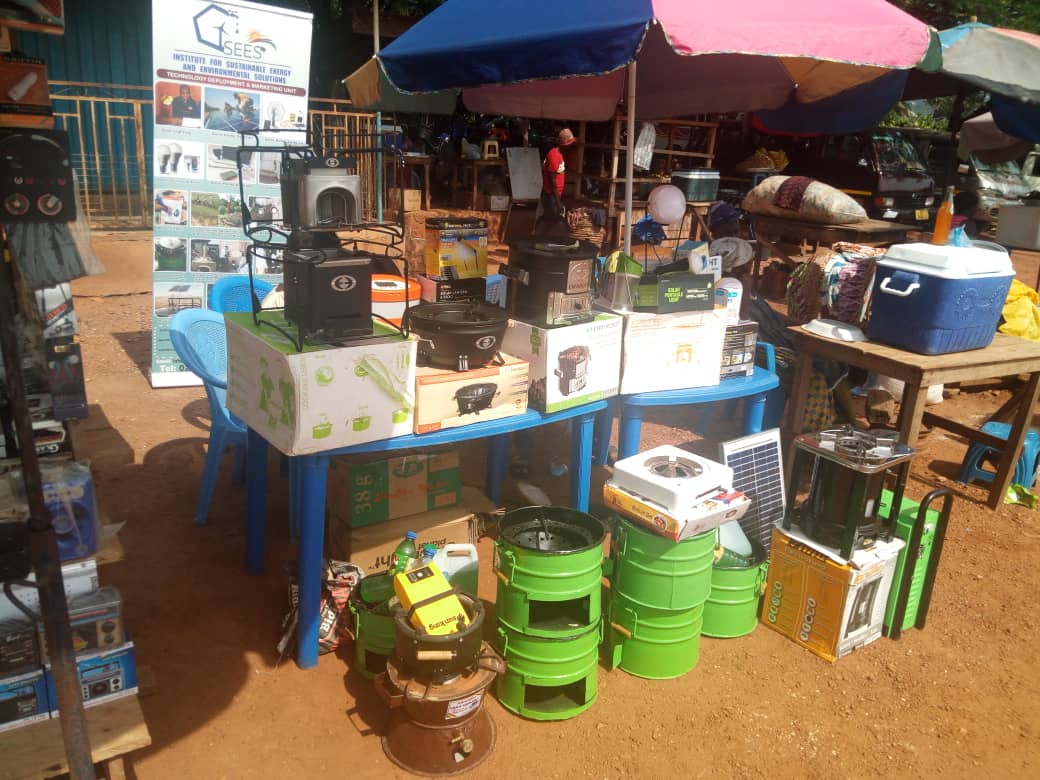 SUSTAINABLE ENERGY MARKET DEVELOPMENT PROGRAM
ISEES SEMADEP PROGRAM seeks to develop innovative business models to enhancing sustainable market development for renewable energy technology access in rural and peri-urban communities in Ghana and Africa. Through market research, market channels development including sales agents, last mile entrepreneurs, integrated dealer, and end-user financing schemes, and supplier-financier-end-user market development initiatives, ISEES seeks to enhance market penetration of renewable energy and environmental solutions in off-grid communities in Ghana and Africa.
ENERGY CONSERVATION FOR HOUSEHOLDS AND INDUSTRIES PROGRAM
This program seeks to enhance access to sustainable energy conservation education and the provision of clean LED Bulbs and energy conservation technologies for households and industries. This includes training of Energy Efficient Advisors to visit households and industries and educate on energy conservation as well as using social media and TV to promote energy conservation. Click here to read more
SUSTAINABLE BUSINESS INCUBATION PROGRAM (SUBIC)
This program seeks to empower young entrepreneurs with innovative ideas, technologies, and businesses in the sustainable energy and environmental sectors to grow their innovations into viable business ventures. The program involves a diverse set of capacity building programs to help businesses in various stages of development, ideation, acceleration, growth, and expansion to develop the entrepreneurial skills necessary to sustainably run their businesses. Within the 5 year period, ISEES SBIP seeks to incubate 50 businesses and provide access to finance to help them grow their businesses sustainably.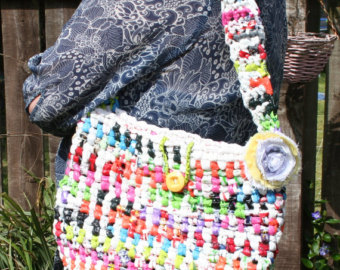 RECYCLING FOR PROSPERITY PROGRAM
R4P program seeks to promote sustainable recycling of plastic and organic waste in Ghana for the development of sustainable businesses in Ghana. Youth and communities are empowered to segregate their waste and utilize it in the production of raincoats, plastic bags, art and collage, sandals, and other economically viable products that can generate incomes for youth in rural communities. Organic waste is also recycled for composting, generation of biogas and sustainable food production.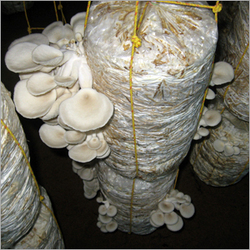 SUSTAINABLE NATURAL RESOURCES CONSERVATION AND UTILIZATION (SUNARCU) PROGRAM
This program seeks to promote sustainable utilization and conservation of natural resources for improved livelihoods of local communities and improved ecosystems management. The program will enhance the conservation of 5 hectares of biodiverse and extinct natural resources including mangroves, bees, forest resources, and tourist sites. It will also provide education as well as put in place community-based initiatives to enhance sustainable utilization of natural resources through alternative livelihoods initiatives, value addition and processing as well as market development for small businesses in moringa, honey, mushrooms and traditional leafy vegetables for healthy living and incomes.
Here for you
Call us 24/7. We are there for your support
Postal Address:
University Box LG 658,
University of Ghana, Legon, Accra
Where to find us
Westland Boulevard Rd. Rawlings Circle,
Madina Estates,
GM - 022-095 (GPS) Accra Ghana.