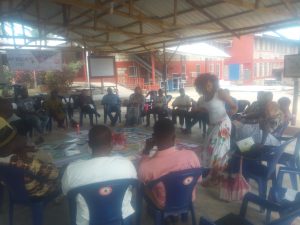 ISEES participated in the strategic meeting of the Global Ecovillages Network GEN-African Conference in the Pax Herbal Center in the Edo State of Nigeria from 11th to the 16th of December 2017. The conference sought to bring together leading members of the ecovillage network to review activities for 2017 and develop strategies for 2018. The conference also sought to update on progress achieved in the UNFCCC climate change conference in Bonn, Germany. About 28 participants were at the conference.
The Global Ecovillage Network (GEN Africa) www.gen-africa.org is a network of global initiatives promoting participatory led approaches to community development. The Ecovillage Network started in 1995 with consultative status with the United Nations and Develops Programs and Projects that support local initiatives.
The African Network of the Global Ecovillages NEtwork was formed in Sekem, Egypt to bring together local organisations and individuals using participatory approaches to enhance community development.
After this conference in Sekem in 2013, there has been several other conferences in Kenya 2015, Egypt 2016, Senegal 2015 and Ghana 2016 and now Nigeria 2017.
For further information, kindly visit www.ecovillage.org/africa/